Transportation In Peachland
Mark's Taxi Service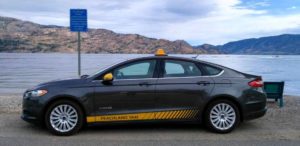 Peachland's local taxi has serviced Peachland commuters since 2016. They drive all hours, everyday except for Tuesday. Want to go to the Kelowna airport? maybe the Penticton airport? North, South, East to West. Mark's taxi service has got you covered. Their website showcases set rates for popular destinations so check it out!
Please book 2 days in advance to insure driver availability Call: 1-844-732-2452 to book your ride!
Luxury Lake Tour's Water Bus

Would you like to travel from Peachland to Kelowna and avoid the awful traffic in the process? Luxury lake tours is offering a lakeworthy vessel to traverse from Peachland's harbor to multiple locations including downtown Kelowna, the Hotel Eldorado, and a tiki bar!
You can find more information as well as purchase a ticket on their website:  scenicboattours.ca