Discovering Peachland's Past
Not only is Peachland a vibrant and unique tourist destination, it is also rich with history. Its history begins 10,000 years ago as the Okanagan was sculpted into the unique geography that shapes our landscape today. The valley used to be home to an exceptionally large glacier that was up to 3000 meters thick. This was responsible for creating the shape of the valley and Okanagan Lake. Our scenic landscapes and mountain views are all remnants of this geological phenomenon.  
The first people to call the Okanagan home are the Syilx/Okanagan people. This territory that we are grateful to be situated on, encompasses 69,000 square kilometers of the Okanagan Valley, reaching into the Washington State. The Syilx people take care of this land and continue to practice their culture despite colonial oppression. To learn more, we encourage you to visit the sncewips heritage museum, 260-525 Hwy 97. S V1Z 4C9 www.sncewips.com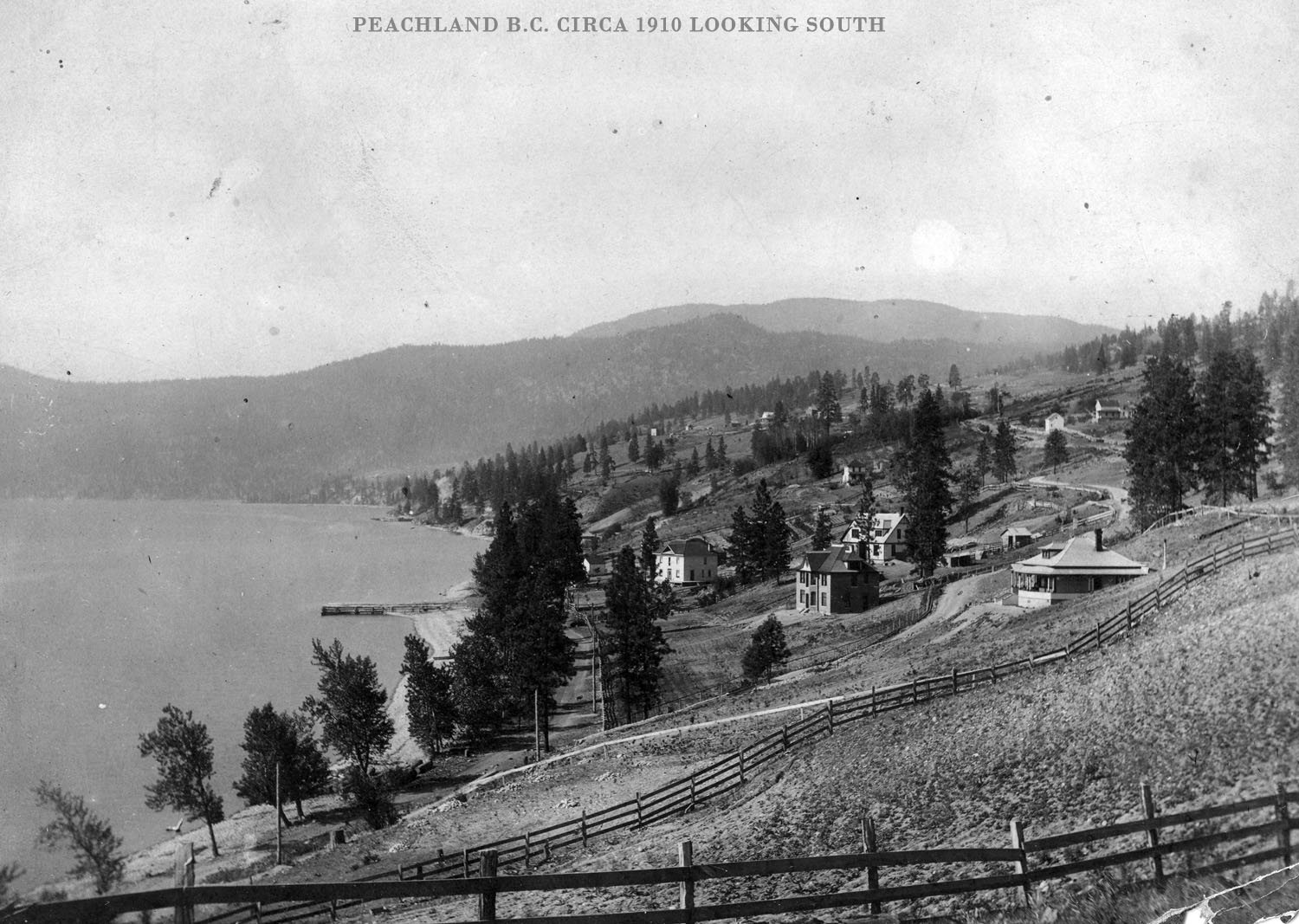 In 1812 European settlers travelled through this area while completing an expedition throughout the Okanagan. In 1884, a man by the name of Charles Lambly began to ranch and grow crops. Peachland was called Lambly's Landing at the time. It was soon seen in its potential to be a mining town. The first mine in Peachland was called the Gladstone Mine and it was owned by Gus Hewitt, later bought by J.M. Robinson. J.M. Robinson stayed at Lambly's ranch for some time upon his arrival in Peachland. He was amazed at how well peaches grew at Lambly's and how delicious they tasted. It was because of those delicious peaches that the town eventually got its name, Peachland in 1898.  
After the mining industry faded away, other industries in Peachland came to be. Agriculture was successful; however, logging and forestry soon became the most prolific industry in town. Nowadays, the only sawmill left in the area is Gorman's mill which is just up the hill in Westbank.  
From these industries and humble beginnings, Peachland developed into the beautiful community that it is now. In 1909 Peachland became a municipality. There are still historic buildings and monuments around Peachland that can be seen to this day. We hope as you explore our town you will view the interpretive signs and historic photos and keep these fascinating historical roots in mind.   
Peachland was once a mining town. You can access remnants of the Gladstone mine via the New Gladstone hiking trail. Photo courtesy of Peachland Museum
View of Beach Ave. from the water. On the left is the Edgewater Inn, now the Edgewater Bar and Grill. Photo courtesy of Peachland Museum
Peachland's first post office. Photo courtesy of Peachland Museum