Peachland Visitor Center Artisan Gift Shop
Artist List
Lyle Archambault – Wood Work
Lyle creates unique wooden paddles, and charcuterie boards.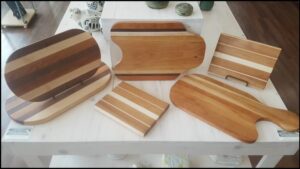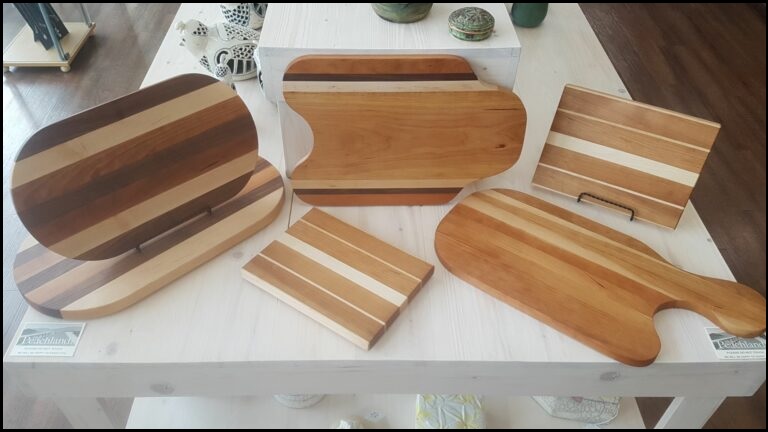 Kit Bell – Paintings
Born in Vancouver BC, Kit attended the University of British Columbia graduating with a bachelor of science in 1974. Throughout her life, Kit has always drawn and painted although her professional career took her into the world of computers, art always remained a strong interest. Kit moved to Ottawa, Ontario after graduating from UBC where she began to paint landscapes in oil. She was represented by the Inspiration Art Gallery in Ottawa and by the Firehall Gallery in Perth, Ontario. She took the opportunity to study at the Ottawa School of Art and exhibited her work at the BCAL clothesline fair in Ottawa for several years.
After moving to Kelowna BC in 1992, a busy career prevented her from pursuing art for nearly 15 years. Returning a few years ago to painting. Kit has picked up where she left off. Continuing to expand her knowledge and develop her technique and vision. She enjoys both painting on location and working in her studio.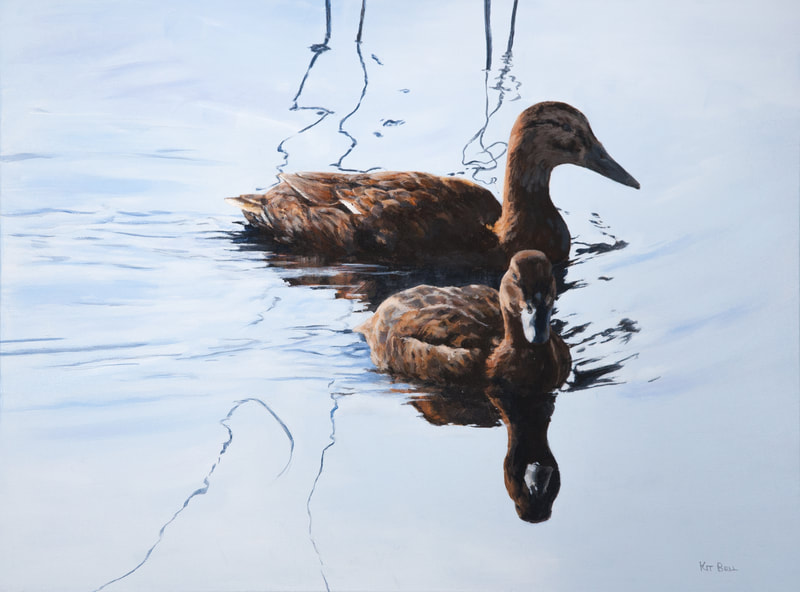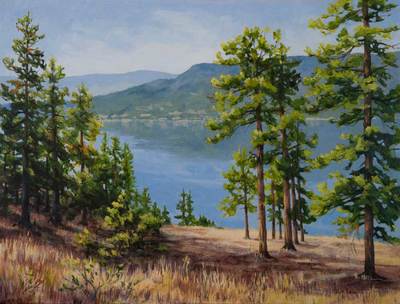 Kelly Corbett – Art Cards
Nanoose Bay artist Kelly Corbett presents her expression of majestic British Columbia Holding diplomas in both the Fine Art and Photography Academy. Kelly combines academic training with her natural talent, painting with acrylics. Kelly's style invites you to take a step outside, a trip through the forest or an outing by kayak to commune with the natural world. As an avid outdoorswoman, Kelly draws inspiration from her hiking, kayaking and camping trips throughout BC. She captures the unique features of stunning wilderness scenes with her camera and uses the images taken as the muse for her paintings.
For the outdoorsy, Kelly's painting style invites you to recall your adventures and relive the sights and scents of BCs natural environment. And for those people that may not have the opportunity to get remote wilderness locations, these art cards offer a glimpse into a world that is inviting and ready for you. The variety of local birds is also a source of inspiration for Kelly. From cute pudgy quail to sleek and graceful birds of prey, Kelly gravitates towards the delicate detail required to represent these interesting creatures. Kelly takes pride in completing paintings that look realistic and offers to all people, the chance to see and experience the beauty that is British Columbia.
Daniel Dearborn – Paintings
Daniel is a prolific painter who would call his style impressionistic. Inspired by Monet and Van Gogh, Daniel began painting at a very young age. He studied with his mentor in the Fraser Valley of British Columbia, Canada. This inspirational man was a master artist and provided the base for what Daniel knows today. Daniels career path led him into retail management for 35 years. Recently retired, he now has time to indulge his passion of creating pieces that fully evoke his artistic senses.
Daniel paints scenes which resonate with people on an emotional level. He draws on memories of areas that he has explored, connecting on a spiritual level of all the senses, allowing him to convey a feeling or mood to the canvas. With every painting, Daniels styles may vary, yet each piece is a beautiful symphony of colour, texture and emotion. Calming and peaceful or vibrant and lively Daniel's passion and talent for each individual artwork is showcased.
Nancy Dearborn – Fused Glass
Born and raised in British Columbia's spectacular Fraser Valley. Glass artist Nancy Dearborn has always sought to echo the beauty of the natural world in her art. The call to create began early in Nancy's life. Beginning with interests in painting and photography. Her love of colour and texture opened her to the world of glass and it was through this medium that she found freedom as an artist.
In 2004 Nancy relocated to the Okanagan valley where she is inspired by the breathtaking views that surround her. She works from her studio nestled in the solitude of towering trees in the hills overlooking Okanagan Lake.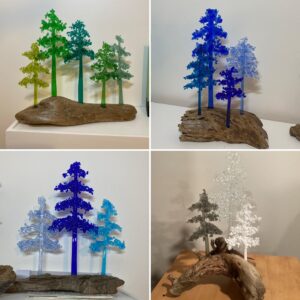 Marty Edwards – Music CD's
Marty Edwards & The Revival – One of BC's most popular trios, performing great hits from the 60s
Peter Flanagan – Pottery
My dream came true- to make pots for a living. Not just any old pots, but the pots I want to make. Collectors, galleries, and ships have supported and encouraged my endeavors, for which I am eternally grateful. The studio where I work is situated in the heart of the Okanagan valley in Peachland. My father in law, Des loan, had the foresight, entrepreneurial spirit, and downright eccentricity to build it back in 1968.
The world passes by our door, especially in the summer months, but fortunately lots of people actually stop long enough to come through. The steadily growing demand for my work requires help from employees and apprentices, some from two blocks away, others from as far as Denmark, Germany, England, and Togo. While contributing to the flow of work, all have added their own special flair and colour to our lives.
In addition to thrown work, I also design tableware for both pressed and slip cast production. We managed for years to fire the original workhorse, a 12 cubic foot alpine. The kiln mantra was "Load fire unload load fire" Finally in 1995 we acquired a new 60 cupid food downdraft. Wow! My wife Daphne, thank God, Buddha, and all the saints, has supported, encouraged, and even taken the bull by the horns when my own leap of faith fell short. Her intuition for what is right keeps the studio progressive. Happily as one can see my pots are not built in a vacuum but the richness of a supportive environment of family, friends and peers.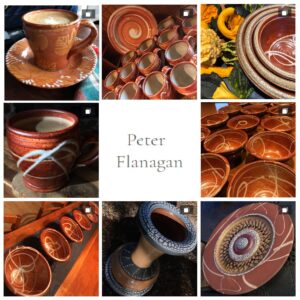 Marilyn Glick – Pottery
Marilyn Glick was born in Yellowknife, Northwest Territories. She studied Fine Arts at Grant McEwan Community College in Edmonton, Alberta. After moving to Victoria, Marilyn studied hand building and raku techniques with local artists. Sandra Marino and Cliff Lennox.
In recent years Marilyn's raku pots and vessels have appeared in galleries throughout BC. IN the summer of 1997 Marilyn's work was selected for the exhibition in both Artisans 97 in Sidney and Fine arts 97 in Sooke, where she and her work were recognized with a jury prize. In 2001, Marilyn received another two jurors choice awards fir Garden City Clay Vessels.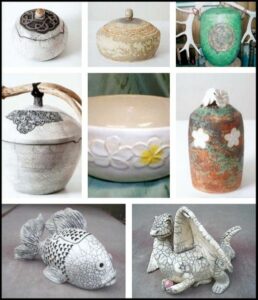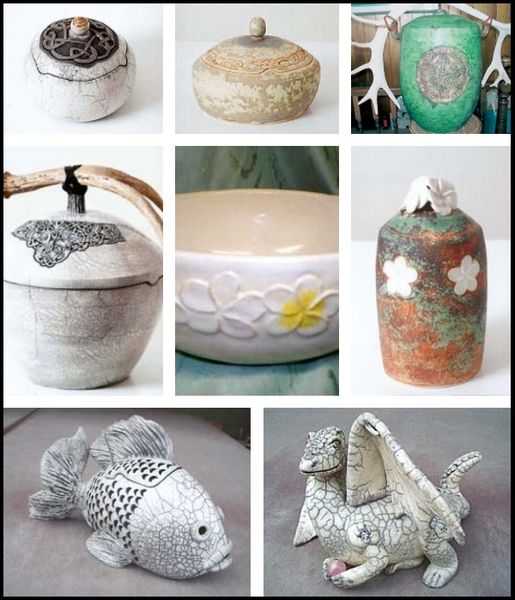 Linda Lovisa – Art Cards & Journal Books
I love the outdoors. My paintings are a visual journal of my adventures. They reflect the places I have been and the beauty I have seen. I am drawn by the light, color, and movement in the subjects and scenes I choose. I have been creating for as long as I can remember, my hope is that my art will inspire others to want to create as well.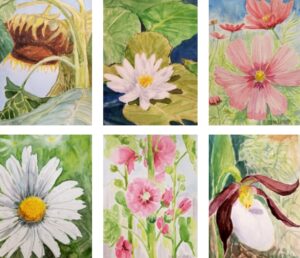 Sarah Parsons – Art Cards/Paintings
Sarah Parsons lives in Kelowna, British Columbia. Sarah's recent painting style involves a love affair with acrylic and mixed media on wood. The beautiful swirling landscapes of the Okanagan valet are a great inspiration for Sarah's paintings and drawings. Many of her paintings depict animal characters with a special  fondness for pigs. Sarah loves fresh air and quiet moments with nature, enjoying snowshoeing and kayaking. Sarah is a passionate friend to the animals and aspired to promote cruelty free living through our annual event.
Holly Roy – Jewelery
Many years ago I studied art and silversmithing at the Norwich School of art in England. I moved to Canada 18 years ago and have been working on making beautiful silver jewelry from my own studio ever since.
Prior to moving to Kelowna from Powell River a year ago, I sold hundreds of my original creations at many galleries and fairs along the west coast. All my creations are of my own design and made in sterling silver with semi-precious stones.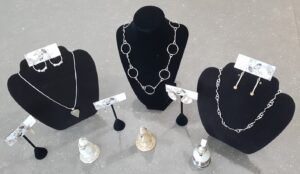 Janice Sich – Art Cards
Upon graduating from the Alberta College of Art and Design with a 4 year diploma in Applied Arts, I worked over 30 years as a graphic glass, and furniture artist.
My relationships with landscapes are intimate and comforting and hopefully invoke similar feelings in the viewer. The painting process relies on honing my observation skills, drawing me closer to nature, colour, light, shadow, it affirms my individuality while reflecting on the past though memories of a place memories of emotions and tactile experiences it anchors me to the present and at the same time it connects me to life through immediate and reflective study.
Jenny Wright – Paintings
Let me share a few things about myself. I Graduated from the University of British Columbia in Vancouver with a Bachelor of Education degree, majoring in art. I was deeply influenced by the work of Emily Carr, Tom Thompson, and Lawren Harris. Sharing their love of trees and the outdoors. During university I experimented with a variety of mediums but focused mainly on oil painting and ink drawing. After graduation I worked as an elementary school teacher, integrating art into the curriculum wherever possible, now retired I have rekindled my love of painting.
I enjoy the medium of acrylic because it dries quickly, can be built up to creature texture and retains its brightness overtime. I use nature as an inspiration for my work, incorporating light and colour into all of my paintings. One of my favourite themes has been boats.
With a pallet of blues and greens I have experimented with various approaches to water. My hope is that the viewer will feel the wind, waves, or gentle stillness as they grew drown into experiencing each painting. Recently I have returned to painting landscapes, in particular scenes from golf courses with all those lovely shades of blue and green. Aside from art, I enjoy outdoor sports, music reading and spending time with my family, especially my 8 grandchildren. I currently reside in west Kelowna with my husband. I am an active member of the federation of Canadian artists and a founding member of the brushstrokes club in west Kelowna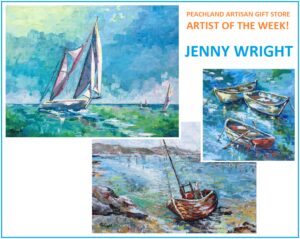 Randall Young – Art Cards & Prints
Randy lives and paints in Okanagan Falls, BC, Canada. Born in Burnaby BC but raised in Alberta. Randy spent much of his formative years camping, hiking, and fighting in the mountains and foothills. West of Calgary with his family.
From this he developed a deep appreciation for nature and the Southwest Alberta and BC landscapes. Randy's always had a keen but varied interest in the arts with music, ceramics, woodcarving, painting, and lutherie having captivated his attention at different times.
After an early career as a musician Randy turned his artistic attention to visual art when he enrolled at the Alberta College of Art and Design. His major was in visual communications which lead him to a twenty year career as a graphic artist illustrator. He's now pursuing more personal expression and exploration of the world around him through oil and acrylic painting and is discovering his artistic voice painting anything that inspires him. Randy currently exhibited his work at the Fernie Arts Co-op , the Crowsnest Pass art Gallery and at various art markets in BC and Alberta.
Greg Reely – Art Cards
Greg Reely is a fine art photographer from Osoyoos BC. He brings the beauty and drama of landscapes and abstracts to life on film and digital mediums.
Since moving from Vancouver in 2009, he has returned to film photography and experimenting with multiple exposure techniques to create some very unique pieces. Moving to the Okanagan has inspired a renewed passion for landscapes. Greg's photographs have been part of exhibits at the Penticton art gallery, Osoyoos, Peachland art gallery, JoJo's café, and festival of the grape
As president of the Osoyoos Photography Club he loves sharing new ideas and techniques that challenge every member to think outside the box.
Greg has had a long career in the music business as recording engineer and procedure, working with many successful international artists over the years. When he's not in the recording studio or creating photographs he also plays drums in the local Penticton band the 'Yard Katz' or he can be found tweaking his golf swing in defense of his club championship at the Osoyoos golf club.